2020.12.20
Facebook, for better and worse, part 1
I posted in a private group (that shall remain unnamed) the fact that 1 in every 1000 people in America in 2020 has so far died of covid. Here's one of the exchanges that followed, with names changed to protect the dickish.
The entire exchange, verbatim, follows. To be clear, I have not changed, nor added, nor removed a single word; this exchange really happened exactly as reproduced here.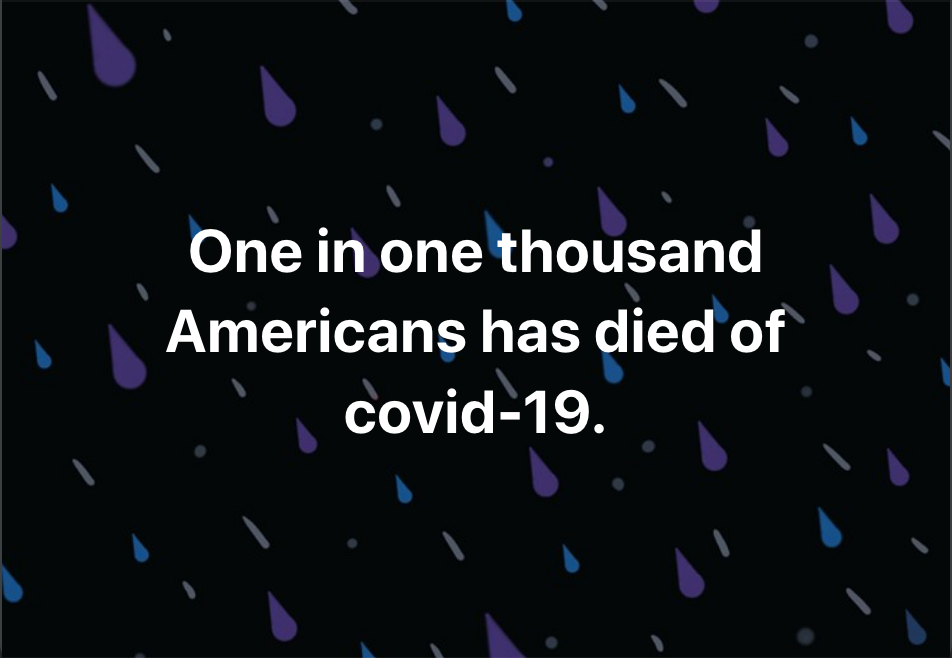 Dick: I like those odds.

Me: 1 in 1000 aren't the odds that you'll die. They're not odds at all. 
That's the number of people WHO HAVE ALREADY DIED at this point in time at which fewer than half of Americans have ever been infected even once (and you can be infected over and over again).
The odds that you'll die battling covid once you've been infected range from about 1 in 6,000 (under age 25) to about 1 in 5 (at my grandmother's age, 88). From one's mid-30s to mid-60s the odds range from about 1 in 1,000 to 1 in 50 respectively and depending on various factors. 
You know what else has odds of 1 in 50? [Meeting the standard to get into the organization we in this group are all part of, because members of said organization are the only people permitted in this Facebook group.]
...and that's BEFORE the knock-on effects: damage to heart, lungs, and other internal organs and systems that we're still learning about that for many people with take months, years, possibly decades off their lives. 
That's not just for people who get severe infection and survive, btw; MRIs and chest x-rays have shown covid heart and lung damage in patients with asymptomatic and mild-symptom covid. So odds of an earlier death overall (during infection or later down the line) than would have happened without covid are even higher than the aforementioned odds of dying from covid acutely.
 
Dick: I like those odds still! 
 
Me:  Do your parents and grandparents like those odds? 
Imagine saying this to a 75-year-old person you love: 
Pick A or B. 
A) You choose to have a 1 in 7 chance of dying in the next two months AND no matter what you will die earlier (maybe by a few weeks, maybe by several years) than you otherwise would have. 
OR 
B) You choose NOT A. 
 
Dick: Yeah Grandma is over this shit.
 
Me: Do any of you care about anyone but yourselves? 
 
Dick: No, not really. 
 
Me: Well, there it is then. You're bringing the rest of us down with you. 
There are a lot of adjectives for that, but I won't use any of them here because everyone reading this exchange is already thinking them. 
You could be making the world a better place (or at least not a worse place) and yet dragging everything down is the choice you are making. What a shame.

Dick: No, I'm bringing you up. I am absolutely sure you feel very virtuous about yourself right now.
You're welcome.

Me: That's so cynical, man. I feel deeply sad right now because your attitude is exactly what's keeping us in this situation where LITERALLY THOUSANDS of people, including our own loved ones, are dying EVERY SINGLE DAY in America.
You could EASILY make a different choice, and yet you choose to poison the world instead of plant seeds that grow into a better world for everyone.
I feel deeply sad for you, because you clearly need love and understanding that you're not getting, and are not likely to get if you continue putting out so much negativity and behaving so selfishly. And I feel even more terribly sad for America, because people with attitudes like yours are making things worse and harder for all of us.
It is my great hope that something will change for you that helps you grow into a person who cares for others and acts accordingly.
If it helps, fyi, caring for others benefits everyone, very much including yourself.
I've said it before and I'll say it again, you can choose whether to be a dick or, you know, not do that.
You can choose to make positive change rather than bring about death and destruction.
You can choose thoughtfulness over ignorance.
Choose wisely.